Description
The ultralight F4 1S 5A AIO Brushless Flight Controller is back in stock with new and upgraded features. Compared to the previous version, the new board uses Serial ExpressLRS 2.4G instead of SPI ELRS 2.4G so that it can support ExpressLRS V3.0 and also has a Frsky RX version to choose from. We updated the FC with high-quality BMI270 gyro and BB51 ESC hardware. In addition, this new board supports the Betaflight Blackbox function.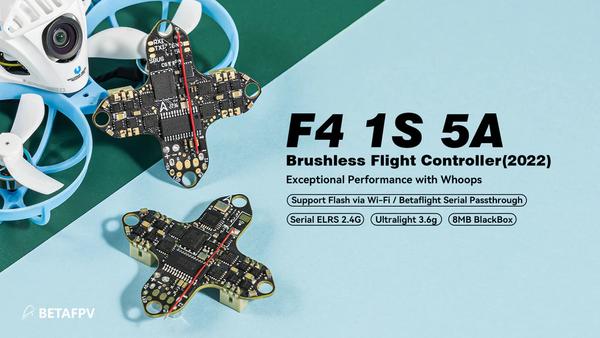 Bullet Point
Come with a Serial ExpressLRS 2.4G receiver, which can be updated via Wi-Fi or Betaflight serial passthrough. It is convenient for pilots to flash any version of ELRS RX firmware and especially can flash ExpressLRS V3.0 without updating flight controller firmware.
The SPI Frsky version board reserves an SBUS port and a UART port, which is available for the SBUS protocol receiver or other external receivers.
Built-in an 8MB flash memory chip dedicated to Blackbox logging. It's an extremely powerful tool for tuning and troubleshooting an FPV drone.
Integrated motor pin connectors, it is easy to install motors without soldering work.
Particular design with only 3.6g ultralight weight, reasonable layout, and easy to build. With a 26*26mm mounting hole size, it is fully compatible with the whoop frame in the current market.
Specification of FC
CPU: STM32F411CEU6 (100MHZ)
Six-Axis: BMI270
Built-in Receiver: Serial ExpressLRS 2.4G
Receiver antenna: Line antenna
FC Size: 30*30mm
Mounting Hole Size: 26*26mm
Firmware version: betaflight_4.3.0_BETAFPVF411 (ELRS)/betaflight_4.2.11_BETAFPVF411RX (Frsky)
OSD: Built-in BetaFlight OSD
Blackbox: 8MB
Recommend VTX: >=200mW, like BETAFPV M03 350mW VTX or TBS Unify VTX
Power Cable: 55mm, with BT2.0 connector
Weight: 3.6g(ELRS)/3.7g(Frsky), without power cable and BT2.0 connector
Specification of ESC
Power supply: 1S
Current: 5A continuous and peak 6A (3 seconds)
ESC firmware: A_X_5_.HEX for Bluejay BB51 hardware
Signal Support: D-shot150, D-shot300, D-shot600, Oneshot125, Multishot, PWM
The Bluejay firmware could support the BB51 hardware now. Both ELRS and Frsky boards are powered by BB51 hardware. If you want to setup the ESC specification, please use the BLHeliSuite16714902A_Beta or ESC-Configurator.
Note: Only SPI ELRS 2.4G version supports motor direction set through Betaflight Configurator and SPI Frsky version does not support. BLHeli Configurator, and Bluejay Configurator are invalid for the BB51 ESC (both versions).
Diagram: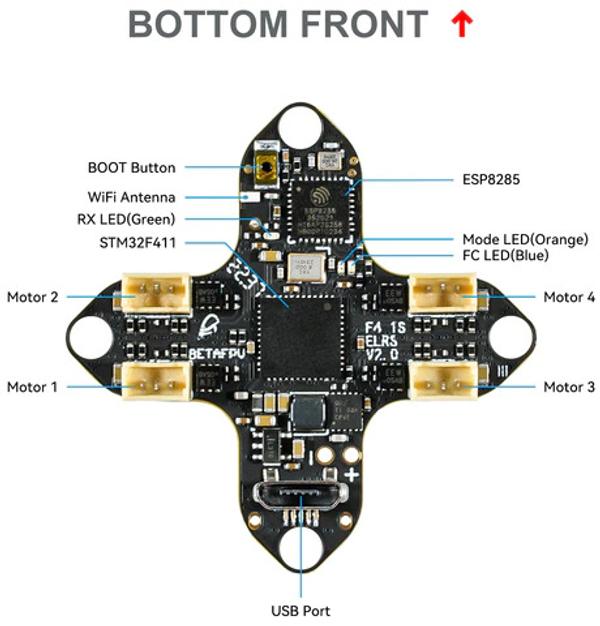 Serial ELRS 2.4G RX
Serial ELRS 2.4G RX uses the Crossfire serial protocol (CRSF protocol) to communicate between the receiver and the flight controller board. So the Serial ELRS 2.4G RX is available to support upgrading to ELRS V3.0 with no need to flash Betaflight flight controller firmware. Enter binding status by power on/off three times.
Plugin and unplug the flight controller three times;
Make sure the RX LED is doing a quick double blink, which indicates the receiver is in bind mode;
Make sure the RF TX module or radio transmitter enters binding status, which sends out a binding pulse;
If the receiver has a solid light, it's bound.
The Serial ELRS 2.4G RX can be updated via Wi-Fi or Betaflight serial passthrough. Here is the way to update the Serial ELRS 2.4G RX firmware through passthrough.
Turn off telemetry in the Betaflight configurator.
Power cycle, while holding the Boot button to put the ELRS receiver into the bootloader.
Open the Betaflight configurator, exit DFU mode, and make sure the Betaflight is disconnected from the flight controller.
Choose target "BETAFPV AIO 2400 RX". Flash using the Passthrough option in ExpressLRS Configurator.
How to flash firmware via Wi-Fi here.
Connecting External RX/HD Digital or Analog VTX 
Parameters
| | |
| --- | --- |
| Dimensions (Length * Width * Height) | 30x30 mm |
| ESC firmware | A_X_5_.HEX for Bluejay BB51 hardware |
| Black box | internal 8MB |
| OSD | yes |
| Mounting pattern | 25.5x25.5 mm (whoop) |
| Radio frequency | 2.4 GHz |
| Steady current | 5 A |
| voltage | 1 Cell (3.7V) |
| Weight | 3,7 g |
Package included
1 x F4 1S 5A AIO Brushless Flight Controller (ELRS or Frsky)
4 x M1.2x4mm Screws
4 x M1.4x5mm Screws
4 x Anti-vibration Rubber Dampers
Reviews

1 rating





Bányász Gábor
|

20/01/2023
A teljes értékű ELRS vezérlő megkönnyíti a frissítést és beállítást. Emellett az ELRS huzal antennával van szerelve, ezért könnyen áttehető a túloldalra. Ez lehetővé teszi, hogy az egyik oldalon ne legyenek magas komponensek, ami megkönnyíti a VTX stackelését.
Emellett BT2.0 akksi csatlakozóval van már eleve szerelve, így azt sem kell venni hozzá.
Én Bluejay-el és Quicksilver-el használom. Mindkettő simán felment rá.
full-featured ELRS controller makes updating and setup easy. In addition, the ELRS wire is equipped with an antenna, so it can easily be transferred to the other side. This allows for no tall components on one side, making VTX stacking easier.
In addition, it is already equipped with a BT2.0 battery connector, so you don't need to buy it either.
I use it with Bluejay and Quicksilver. Both of them went up easily.